You're an… Enthusiast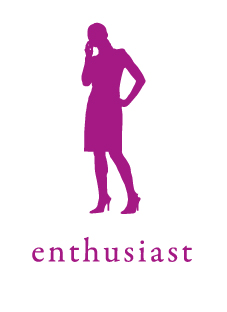 You really want to plan ahead and be super organised like the dependable and deliberate Architect, and usually you really do get a meal plan down on paper.  Chances are though you find that your menu plan doesn't work well because, if something happens, you need to change your plans.
You always keep an ear to the ground so you can be flexible to the demands and opportunities of life as it happens around you.
Want to learn more about your Meal Planning Personality®?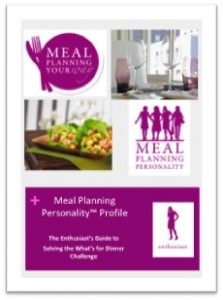 Now that you've uncovered your Meal Planning Personality®, the next step is to choose the tools that work best with your Meal Planning Personality Profile®!
Play to your strengths and avoid the tools that will frustrate you!
Uniquely created, our Meal Planning Your Way 58 Page Meal Planning Personality Profile for The Enthusiast ®, is your ultimate Guide to Solving the What's for Dinner Challenge. It is your Guide to saving time, money and stress while you solve the 'What's for Dinner' Challenge!
Inside the Meal Planning Personality Profile for the Enthusiast ® you'll discover:
A new way to meal plan
The four steps to Meal Planning Your Way
What an Enthusiast's meal plan is like
The questions an Enthusiast needs to ask when meal planning
The really important pieces of kitchen equipment for an Enthusiast
How an Enthusiast should organise their recipes
The fundamentals of Organising Your Kitchen, Pantry and how to create space in your dining room / dining table for meals
The cooking/ kitchen strategies that an Enthusiast should try to make life easier!
Smart shopping tips including what's in season and how to prioritize your food dollar when it comes to organic produce
PLUS Meal Planning Templates specifically designed for an Enthusiast!
Uniquely created by Meal Planning Your Way, this Meal Planning Personality Profile® is the ultimate Guide for to saving time, money and stress while you solve the 'What's for Dinner' Challenge!
 If you want to reduce the amount of food, money and time you're wasting, this 58 page guide shares the step-by-step strategies and resources for Enthusiasts to meal plan successfully and reclaim their kitchen from the clutter of everyday life.
The Meal Planning Personality Profile for the Enthusiast ® is available for immediate download as an ebook.
| | | |
| --- | --- | --- |
| $19.95 | | |
Back to Meal Planning Personality
Purchase and Use Terms
All payment processing takes place through Pay Pal.
This is a digital file product, so a link to the digital file will be emailed to you from Ejunkie. This digital product is available in PDF format. To open the PDF you will need Adobe Reader (free).
There is a limit to 5 downloads (or 120 hours) for you to download your file, so *please* save the file to your computer.  You can then open and print the file any time you like. This guide is formatted to A4, but you can easily adjust the size when you go print the file using your printer settings.  No refunds are available on digital products.  If you have any issues with accessing the file, contact us for alternative links to access the file.
This product is for personal use only, not to be shared or reproduced and is copyright to The D'Allura Group Pty Ltd trading as Meal Planning Your Way. All rights reserved.   All requests for permission to use materials should be submitted to Email: louise@MealPlanningYourWay.com
You may only access and use the content for personal interest and general information purposes and not as a source of health or other advice. If you wish to use the Content in connection with health decisions, you should seek the advice of an independent, qualified health professional in relation to your individual requirements.