About

Are you too busy to cook and can't find the time or space to cook in your kitchen?
Don't worry – YOU ARE NOT ALONE! This Meal Planning Your Way blog is dedicated to those of us that want to discover a new way to meal plan that will help save time, money and our sanity, all while we eat better!
If you want to reduce the amount of food, money and time you're wasting, this blog is dedicated to showcasing easy strategies and resources for meal planning, solving the what's for dinner challenge, how to stay additive alert and how to reclaim your kitchen from the clutter of everyday life!
Just because food is my business, doesn't mean I plan all my meals in advance and like cooking EVERY NIGHT OF THE WEEK. I don't! I get tired, cranky and over it too. I certainly don't meal plan 4 weeks in advance. If I do I know I will have a lot of food waste. I know there are a lot of women out there like me – who like to cook when we have the time, but some days days thinking about what's for dinner and cooking it is a chore, right? And for those days, you want simple and easy dinner ideas and a new way to meal plan without the food waste!
I look forward to sharing and hearing your tips on how to meal plan, how to make better choices to avoid some of those nasty food additives – even when you're too busy to eat well!
This is me!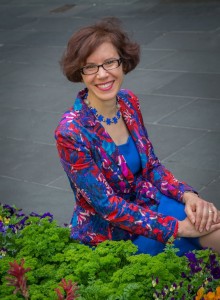 Growing up in an Italian Family where food and vegetable patches are an essential part of life, it is no surprise that I became a Home Economist.  Plus I was obsessed with understanding all those people who approached meal planning by planning weeks in advance (this is so not me), and exploring time saving, low cost ways to feed families. In the very first cooking demonstration I created, I taught the audience how to use items in their pantry, fridge and freezer to make cooking and dinner time easy and healthy! That was back in 1996 and I have never looked back!
My first job out of Uni was working at Nutrition Australia and I stayed there for five years, then worked in corporate health/ wellness and later in occupational health (for nine years!?).  I also got an insight into some of the chemicals workers in the manufacturing industries were using and reacting to were the same chemicals kids and families react to.  How curious!  Though out those years I discovered the way we organise our lives has a big impact upon our health and daily stress levels.  Many of the strategies that helped busy professionals were organisational skills and healthy living strategies.
By 2009 I started my own business as the Consultant Home Economist and Accredited Expert Professional Organiser behind The Revamp Experience and our dedicated food division – Meal Planning Your Way.  I love helping busy women get organised – especially for healthy eating.  I've found so much joy helping clients dealing with food intolerances and allergies.
Just so you know – I DON'T subscribe to ONE food approach because I take the BEST BITS of what's out there (e.g. vegetarian, paleo, gluten-free, dairy-free and grain-free).  I am definitely not fat-free – quite the opposite – I love fat! I am however, mindful of choosing nutrient dense carbs (like vegetables over plain old carbs/ bread) and minimising added sugar options.  We have a few food allergies, sensitives and intolerances in our house so I cook egg free, gluten free and grain free dishes amongst our very unique combination of food sensitivities!
At the end of the day, it's all about Meal Planning YOUR Way!

Louise D'Allura
Accredited Expert Professional Organiser | Consultant Home Economist and Additive Alert Community Talks Presenter
My Meal Planning Personality™ is an Intuitive!
My inspiration
I love coming up with creative cooking short cuts and I draw on what my parents and grandparents taught me. Their wisdom encouraged me to look at food as a valuable, nourishing resource to bring people together.