Quinoline Yellow (E104) is a food colour you might find in custard, lollies, snacks.  Avoid it if you have asthma or allergies.  Studies have shown it may also be linked to hyperactivity.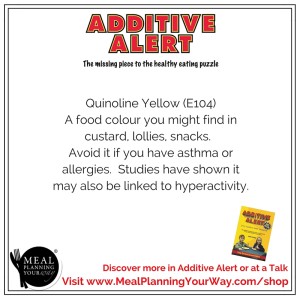 If you want to learn more – check out:
Additive Alert: Your Guide to Safer Shopping
Community Talk: Food for a Happy and Calm Household.

This talk can be delivered easily in South East Queensland.  Please contact Louise for more details.
If you are further afield get in contact as organisations and community groups have successfully lobbied for funding!
Click here to find out more about Food for a Happy and Calm Household.