Disodium 5-guanylate (E627) is a Flavour Enhancer that you will often find in foods like chips and stock powders.
Asthmatics, aspirin-sensitive people and gout sufferers find it helpful to avoid.  It has also been noted by some to contribute to hyperactivity.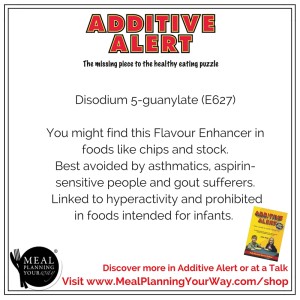 If you want to learn more – check out:
Additive Alert: Your Guide to Safer Shopping
Community Talk: Food for a Happy and Calm Household.

This talk can be delivered easily in South East Queensland.  Please contact Louise for more details.
If you are further afield get in contact as organisations and community groups have successfully lobbied for funding!
Click here to find out more about Food for a Happy and Calm Household.