Octyl gallate (E311) is an antioxidant that can be found in dairy blends, edible fats and oils, reduced fat spread, margarine, dripping, and salad oil.
It's best avoided by asthmatics and aspirin-sensitive people.  It may cause gastric and skin irritation,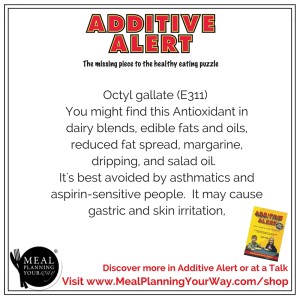 If you want to learn more – check out:
Additive Alert: Your Guide to Safer Shopping
Community Talk: Food for a Happy and Calm Household.

This talk can be delivered easily in South East Queensland.  Please contact Louise for more details.
If you are further afield get in contact as organisations and community groups have successfully lobbied for funding!
Click here to find out more about Food for a Happy and Calm Household.