Sodium Benzoate (E211) is a preservative you might find in a range of products – from cordial, soft drink, to sauces, relish, baked goods, and lollies.  It may be associated with hyperactivity, nettle rash, allergic reactions and asthmatic attacks.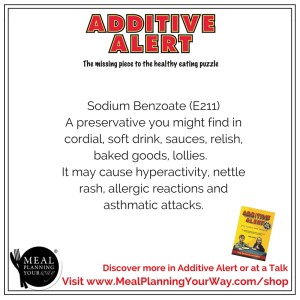 If you want to learn more – check out:
Additive Alert: Your Guide to Safer Shopping
Community Talk: Food for a Happy and Calm Household.

This talk can be delivered easily in South East Queensland.  Please contact Louise for more details.
If you are further afield get in contact as organisations and community groups have successfully lobbied for funding!
Click here to find out more about Food for a Happy and Calm Household.