Have you noticed just how much Halloween paraphernalia is in the shops? Well if you're getting dragged into it I thought I'd share some great ideas for you to start introducing some ghoulish and healthy options this week!
According to Wikipedia, Halloween or Hallowe'en or All Saints' Eve, is a yearly celebration observed in a number of countries on 31 October, the eve of the Western Christian feast of All Hallows' Day. It is dedicated to remembering the dead, including saints (hallows), martyrs, and all the faithful departed believers.
The traditional focus of All Hallows' Eve revolves around the theme of using "humour and ridicule to confront the power of death."
Being a Harry Potter fan it reminded me of the Riddikulus spell that Professor Lupin taught the students to battle a Boggart – an amortal shape-shifting non-being that takes on the form of your worst fear.  Professor Lupin taught the students that to defeat a boggart you need to push past the fear and concentrate on something that will make the boggart look comical – to inspire light and laughter! That really seems like a great way to approach ANY fear doesn't it?!
Knowing the humour origins of All Hallow's Eve and thinking of Professor Lupin's example I can kind of appreciate Halloween in a new way now!!!
So with that in mind, I'm sharing a treasure trove of cool recipes!
This collection comes from a variety of websites that you can check out the instructions further by clicking on the images and links.
Mummy Toasts and more from 6 Healthy Halloween Treats
In this collection you'll find:
Mummy Toasts

Creepy Spiders on a Log (celery and nut butter with plastic spiders)

Banana Ghosts (half a banana with chocolate eyes and mouth) 

Mandarin Pumpkins (whole mandarine with celery stick in the top)
Pictures and instructions here: http://spaceshipsandlaserbeams.com/blog/2013/09/party-food/5-healthy-halloween-treats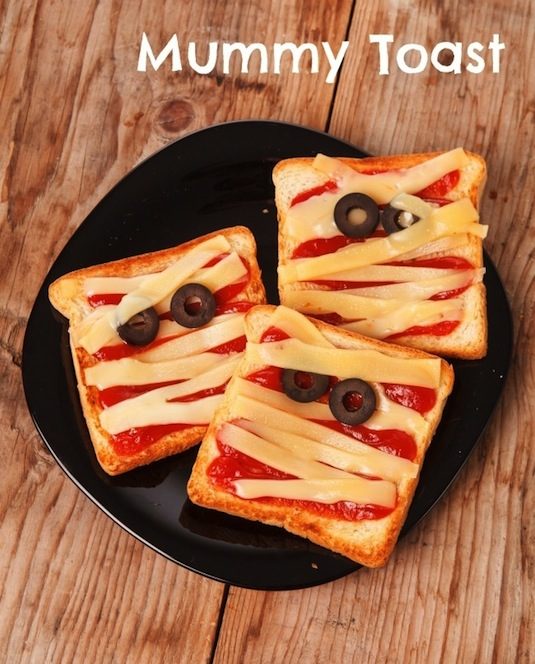 Pizza Fingers
These FINGERS have to be my favourite!  EWWW!!!
To make these ugly fingers just make a cheese pizza and add capsicum triangles for finger nails!
Pictures and instructions here: http://www.cutefoodforkids.com/2012/09/27-halloween-finger-food-ideas.html