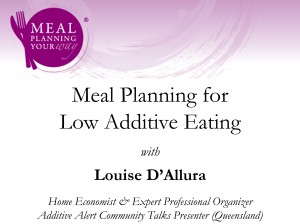 I'm super excited to announce our brand new program – Meal Planning for Low Additive Eating is starting this month on the 28th April.
In this program I'll take you through the jungle that is food additives and help you get organised with meal planning, product swaps and guides!  Delivered all online you'll be able to work through it at your own pace.
Now if you have been to one of my food additive talks you know I am all about taking it slow – doing a few changes a week and making what you can – when you can.  This is why I am so excited to share this with you!  Especially because this approach WORKS!
The program is perfect for busy women who have sneaking suspicions about food additives being a culprit in health and learning issues in their kids – but you're not sure where or how to begin!?
The program includes:
Electronic copy of our Ebook – Too Busy to Eat Well (RRP $9.80 – click here to check it out)
A video recording of "The Dirty Dozen Food Additives to Avoid."  In this 90 minute presentation as the Authorised Additive Alert Presenter I outline the key facts about how our food has changed and which additives to avoid. (Accessed online only) (RRP $16)
4 weeks of E-classes with videos and downloadable PDF documents sent to your inbox each week.
Each week you'll get the relevant templates and planners you need PLUS I'll be including a few extra audio recordings and interviews to help you on your way with getting organised and meal planning.
Click here read more detail about each week and some great feedback on the approach we are advocating!
Recommended Resources
Now the one thing I did NOT include in the program is the book Additive Alert.  This is because many people already have it from buying it at a talk, so if you DON'T be sure to grab a copy of Additive Alert – by clicking here to buy the book.
If you want to ditch the additives and get meal planning but you're finding it hard to know where to start, Our Online Meal Planning for Low Additive Eating program is for you!  
Come join me now – at $19.95 this program is super affordable!
Be sure to read the feedback on the approach we are advocating too!