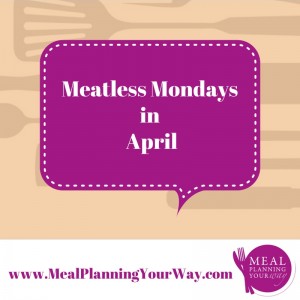 Regardless of when you plan, on the first Monday of every month I'll be sharing what's in season as well as a few recipes to help get you inspired to add a Meatless Monday into your life every week!
One thing that I always recommend is to have vegetarian meals at least once a week to make sure you're getting in loads of antioxidants and fibre to keep you regular!
Depending on your Meal Planning Personality you'll plan your meals at different times – either a month or a week in advance or on the day.  (Click to take the Quiz to Uncover your Meal Planning Personality). 
What's in season 
During April (in the southern hemisphere) the focus is on:
Beetroot, Broccoli, Brussels Sprouts, Cabbages, Capsicums, Fennel, Leeks, Mushrooms, Okra, Peas, Potatoes, Pumpkin, Silverbeet, Spinach
Meatless Monday Recipes
This month's instalment of Meatless Monday Recipes include:
Meatless Pasta Sauce – with beetroot, red lentils and sweet potato (suitable for moderate failsafe diet)
 Spinach and Feta Pie – Easy and delish!
Pumpkin and Lentil Lasagne – I use Red lentils instead of a can – the red lentils take the same time as the pumpkin.
Jamie O's crunchy raw beetroot salad with feta and pear
Veggie Kebabs – 4 Ingredients  – super easy
Now, I would love to hear from you! In the comments below, tell me what your favourite Meatless Meal is and share a link to the recipe.  I would love to feature it in an upcoming collection!
If you've found this article of interest, please share it with your friends!  I really do appreciate you taking the time to read and share 😉

   PS What's in Season Source: this post from Taste.com.au for What's in Season.