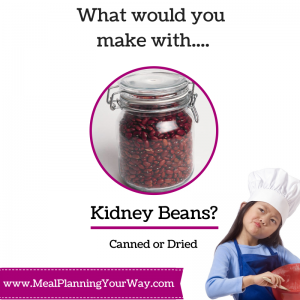 I regularly keep kidney beans in the pantry because they are so versatile. Kidney beans are thought to have originated in Peru thousands of years ago and are called "kidney" beans because of their shape! Kidney beans are used all over the world in a range of sweet and savoury dishes. I'm sharing a few of my favourite ways with Kidney Beans:
1. Tacos/ Burrito
I always keep Bolognese pasta sauce in the freezer so that when I want a quick chilli con carne to put into tacos it is super quick and easy to make! Just defrost the Bolognese sauce, add a can of kidney beans, ground cumin and coriander, and serve with salad and sour cream/ yoghurt. Yum! When buying Tacos/ burritos choose a brand with no questionable additives (click here) .
To make tortillas check out this recipe from the Quirky Cooking Blog:
http://quirkycooking.blogspot.com.au/2009/02/spelt-tortillas.html
Or this one to make Pita Bread Wraps:
http://www.recipecommunity.com.au/recipes/pita-bread-wraps/128146
2. Pizza
If I have left over chilli con carne (Bolognese meat sauce with kidney beans) it makes a great topping for a quick pizza – just add feta cheese, pineapple and grated cheese.
To make a quick pizza base mix two cups of flour to 6 tablespoons of natural yoghurt, mix and roll out. This is a thin base so don't overload it! If you buy pizza bases choose a brand with no questionable additives (click here)
3. Nachos
For Nachos either make corn chips using mountain bread or choose a brand of plain corn chip with no questionable additives (see here). Layer the corn chips on a baking tray. Puree a can of kidney beans, add chilli, paprika, cumin and coriander, then layer on corn/ pita chips. Sprinkle with cheese and put in an oven until the cheese is melted and heated through.
4. Spaghetti
To add extra fibre and protein to your spaghetti sauce add a can of pureed kidney beans.
5. Burgers
To make a tasty burger mix mince, pureed kidney beans, spring onions, fresh chilli and herbs (e.g. parsley/ coriander). These help to stretch your mince further and add extra protein, fibre and flavour.
6. Soup Minestrone
I love minestrone soup. It is one of those versatile soups that you can toss in any vegetable you have, plus a bit of pasta and beans and you have a complete meal. I love adding kidney beans because they are a little bit 'meaty'.
7. Kidney bean dahl
We tried this at an Indian restaurant where the owners are vegetarian. It is a mix of brown lentils and kidney beans. I'm looking forward to trying to make it at home. I'm going to have a go at cooking this one: Dal Makhani (Black Gram and Kidney Bean Curry).
http://foodandspice.blogspot.com.au/2012/10/dal-makhani-black-gram-and-kidney-bean.html
8. Mexican beef
This is my own take on a savoury mince Mexican style! Cook onion, add the mince, and when brown add tomato paste, sultanas, kidney beans, corn kernels (fresh from a cob or canned), chilli powder, cumin, coriander. Cook and serve with rice and a salad.
9. Chocolate Mud Cake: AKA Magic Bean Cake
I only discovered this recipe when I bought a thermomix and it is incredible.  It is so simple and tastes fantastic. The secret to this cake is to puree the kidney beans to smithereens, so just use a food processor if you have one. This cake has no flour so it has a lot of eggs in it instead to provide the structure.
http://www.recipecommunity.com.au/recipes/magic-bean-chocolate-cake/25751
Now, I would love to hear from you! In the comments below, tell me what your favourite kidney bean dishes are and share a link to the recipe.  I would love to feature it in an upcoming collection!
If you've found this article of interest, please share it with your friends!  I really do appreciate you taking the time to read and share