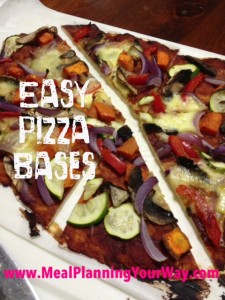 I love pizza.  I grew up eating it as a yummy healthy meal because it was either made from scratch or the toppings were all made from scratch.  In this post I wanted to share a variety of options with you – including Gluten Free and Gluten and Grain Free too!
These are only just a few ways to make easy peasy yummy pizza bases.   Of course there are HEAPS more options – and I'd love you to share your favourites in the comments box below.
1) Flour and Yoghurt Pizza base
This is the one in the picture – it is a recipe I learned from my sister Nettie! It is so easy my 7 year old nephew makes it – from scratch – on his own!
All you need is: 1 cup of self raising flour and between 4-6 tablespoons of plain yoghurt (depends on how thirsty your flour is) and a good pinch of salt.
Mix, knead a bit and roll it out.
Then put on whatever toppings you like.   It is a very thin base pizza so don't pile toppings on too crazily!  Cook it at 250 degrees for 10 minutes (check at 7 minutes, and can cook for up to 15 minutes if necessary).
2) Chickpea Flat Bread
This recipe is lovingly created by Tania Hubbard from Gluten Free Grain Free Company.  YUM – and I mean this is seriously YUM.  Actually Yum doesn't even begin to describe how yum it is to have chickpea flat bread as your base:
3) Three of the best
Naughty Naturopath Mum's Alisha has shared these beautiful ones on this post:
Buckwheat & Almond Pizza Base
Cauliflower Pizza Base and 
Polenta Pizza Base
4) Cauliflower Base
For a different take on a cauliflower base you might like to try this one too:
5) Basic Pizza 
This Jamie Oliver one is the best flour and yeast one I have ever made.  It is crazy good and worth the effort!!!!!
6) Run out of time?
If you're running out of time an easy option is to use Mountain bread.
These are super quick and don't have the questionable additives we find in many wraps/ pita bread.  Pita bread – of the traditional varieties won't put in preservatives or questionable antioxidants. Click here to find out what to avoid.
Now, I would love to hear from you!
In the comments below, tell me what your favourite pizza bases and toppings are?  Be sure to share a link to the recipe if it is online.  I would love to feature it in an upcoming collection!
If you've found this article of interest, please share it with your friends!  I really do appreciate you taking the time to read and share