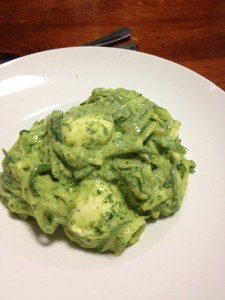 This recipe is a great example of when you're too busy to cook and you have only a few ingredients you can create something amazing!  Plus as an added bonus it is gluten free, grain free, can be made paleo and dairy free too!  It is SO versatile!!!
The only equipment you need to make zucchini into pasta is a grater – seriously that is it!  You don't need to buy ANYTHING – just use the equipment you have!  The trick is how you grate your zucchini – top and tail and then grate LENGTHWAYS to get lovely long strands.  Pretty simple right?
Then to cook it I tossed it through the sauce I was making – very carefully, but you could easily put the zucchini in a bowl of hot water for a minute or two then add it to your sauce – whatever it is!
We had some bocconcini in the fridge so I tossed that in too with the ricotta and let that heat through and start to melt.  Plus this would be a great way to Revamp cooked chicken.  Simply heat the chicken through when you add the oil and garlic.
The sauce – Salsa Verde means green sauce!  I grew up eating salsa verde as Dad always grows LOTS of parsley, and he always keeps a jar of it in the fridge to add flavour to everything and anything: chickpeas and pasta, roasted capsicum, put some on bread and cheese.  There are lots of fancy recipes you can google but he keeps it simple:  Chop finely by hand a bunch of parsley, garlic, oil.  Sometimes he will add in anchovies too, but he never bothers with capers.
For this recipe I varied it as I had basil and parsley in the fridge that I wanted to use up and I didn't chop it by hand!

Zucchini Pasta with Salsa Verde
Ingredients
BASIL 1 bunch
PARSLEY, ½ bunch
GARLIC, 6 cloves
OLIVE OIL – add as much as you need
RICOTTA (optional) 2 tablespoons/ Cooked chicken
ZUCCHINI 1 per person
Instructions
Put all the herbs and half the garlic in a blender/ thermomix
In a pan add oil and 3 cloves chopped garlic.
Toss in briefly some Salsa Verde, ricotta (about 3 tablespoons) and then more olive oil.
Toss in the Zucchini strands.
I was careful to add oil and stir gently to heat the zucchini just enough to keep all the beautiful nutrients in.
Alternatively If you are worried about breaking up the fine zucchini strands, just put the zucchini strands in a bowl of hot water briefly (about 1-2 minutes max).
Either way it is so delicious!