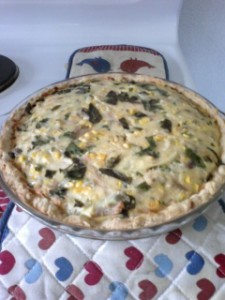 This Chicken and Cheese Open Pie is a super easy recipe and a great example of the Revamps philosophy – using leftover chicken.
When you Revamp your leftovers, you need to look at varying one or more of the Revamp principles.  In this example we varied:  texture (cooking the chopped/ shredded chicken in an egg custard which softens it) and ingredients (egg, puff pastry). 
In this photo to the left, my sister Nettie made the pastry from scratch – super easy and no blind baking required!  She added in corn and some herbs as well.
You'll see in photo below I'm demonstrating that whenever I cook anything in the oven (e.g. a pie) I multi-task my meals!  This means I'll roast some sweet potato at the same time, or anything else that will give me a head start.  Having roast sweet potato on hand is so versatile.  I can use it in a range of meals for the next few nights – salads, frittatas, pizza, you name it (see link before for more ideas).
If you use store bought pastry which I have for this one, I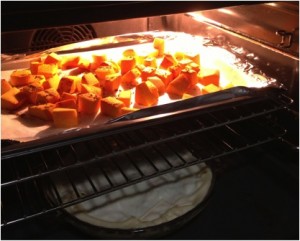 suggest you use only butter puff pastry vs short crust pastry or low fat pastry.  Butter puff pastry has a much simpler ingredient list – so important when you want to avoid nasty and questionable food additives (flour, butter, salt, water, food acid).  Alternatively you can make the pastry from scratch too like Nettie did!
Check out this post for some inspiration on how I revamp roasted sweet potato.
Cheese and Chicken – Open Pie
Author:
Meal Planning Your Way
Prep time:
Cook time:
Total time:
Ingredients
1 sheet butter puff pastry
180g grated cheese
180-240g chopped cooked chicken
1 onion, sliced
1 tablespoon flour
3 eggs
225ml milk
Instructions
Put pastry sheet onto bench to defrost
Grease pie dish
Into a bowl put chicken, cheese, flour and onion. Toss to coat in flour.
Put pastry into pie dish and add fillings to pastry
Into a bowl (use same one) mix eggs and pour over chicken.
Cook for 15 min at 230C (bottom element if you can for this),
Turn down to 150-160C for 30 min (top and bottom elements/ fan force).
Now, I would love to hear from you! In the comments below, tell me what are your best ideas for either pie fillings or Revamping your cooked chicken?  I would love hear it!
If you've found this article of interest, please share it with your friends!  I really do appreciate you taking the time to read and share.