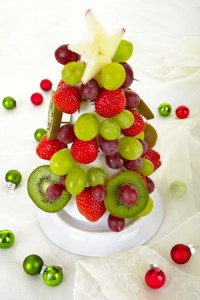 'Christmas' is that time of year that we all seem to stretch our budget to the max!  Between presents, food, end of year catch ups, going out with friends, it all adds up to be an expensive time of year.
The easiest way to stretch your Christmas Food Dollar further is to get a bit untraditional!  I'm a big advocate of adding vegetarian dishes to the usual Christmas menu that can be traditionally heavy on the meat with ham, turkey, chicken, and roasts!
You can really stretch your Christmas budget further when you shop seasonally – either at farmers markets or at the supermarket by including vegetables in season. The added bonus – you'll get fruit and vegetables that taste brilliant making these  the ones you'll WANT to feature in your Christmas Menu.
What's in Season?
Vegetables
Asparagus, Beans, Beetroot, Capsicum, Celery, Chillies, Corn, Leeks, Lettuce, Pumpkin, Snow Peas, Zucchini
Fruit
Blackberries, Blueberries, Cherries, Raspberries, Strawberries, Melons, Nectarines, Peaches, Plums
Vegetarian Dishes to Add to Your Christmas Menu
Zucchini, asparagus and corn are all in season at Christmas time which is perfect because they are fantastic additions to the Christmas Menu.
Check out the recipes below for a Zucchini Slice, Asparagus Quiche and Corn Fritters?
The best thing about these recipes are you can make these the day or night before and serve them cold – so easy and delicious!  Here are the links:
Zucchini Slice 
Asparagus Quiche – best with fresh asparagus
Corn Fritters – Use fresh corn (or canned corn if you forget).  These are awesome cold, served with cream cheese and smoked salmon.  Because you only need a little smoked salmon on each it really helps to stretch your food dollar further!
Now, I would love to hear from you! In the comments below, tell me some of your tasty dishes that help to stretch the Christmas Menu budget and share a link to the recipe.
If you've found this article of interest, please share it with your friends!  I really do appreciate you taking the time to read and share 😉