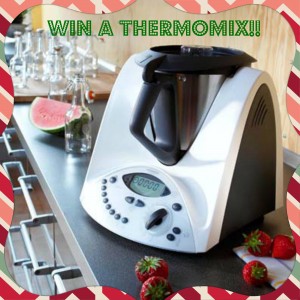 If you're the lucky winner of the Thermomix Giveaway that I'm part of you'll need to get organised for it! (CLICK HERE to enter).
For some of us (yes even confident cooks), there's a certain amount of intimidation with the Thermomix and not knowing how to start COOKING with it.  I've only recently bought one and before I did I had a game plan – to interview Jo Whitton, the Queensland based food blogger behind the hugely popular Quirky Cooking Blog and find out tips and recipes I needed to know.
Honestly, interviewing Jo was the best thing I did!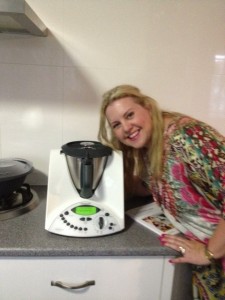 I felt much more confident with this game plan so when I signed on the dotted line for my Thermomix order with my consultant  (that's Fleur in the picture!),  I had a list Recipes to Try that I could work through (see link to original post below)!  Talk about organised!
The good news was almost all the recipes came from the cookbook that comes with the Thermomix, or were easily available on the recipe forum, or Jo's Quirky Cooking Blog.  Here is a quick summary of the recipes we tried within the first few weeks:
Vegetable Stock:  I chose to do the vege stock as my first homework task.  Cooking the stock is SUPER EASY and excellent practice to do on your own.  I LOVE this stock – 100% all natura – no added MSG, or cleverly disguised flavour enhancers!! I actually know what is in it.
Soups:  We made a few – Tomato, Minestrone, Mushroom.
Mushroom Risotto: So easy to do and so delicious – is a great one that my hubby makes.
Bread:  Jo warned me, and she was right I seriously ate way to much of it with lashings of butter.  YUM…
Mashed potatoes:  It sounds crazy to write this – but being able to cook 1 KG of potatoes in 250 mL of milk is just nuts!
Fried Rice: Jo's recipe was yummy: http://quirkycooking.blogspot.com.au/2009/08/thermomix-fried-rice.html
Magic Bean Chocolate Cake:  A light chocolate wheat free cake made with kidney beans! Be sure to puree the heck out of the beans – we just kept the beans in the mixing bowl the whole time as per other tips from reviewers.  http://www.recipecommunity.com.au/recipes/magic-bean-chocolate-cake/25751
Sesame Chicken & Vegetables with Creamy Tikka Sauce:  http://quirkycooking.blogspot.com.au/2012/02/sesame-salmon-vegetables-with-creamy.html
I also went to a Varoma cooking class that my fabulous consultant and her team ran as well.  It was great to learn more Varoma specific recipes too.  The Varoma is brilliant and if you don't know how to use it – ask your consultant!   Jo's tip is to make sure you let your consultant know they need to show you at the delivery briefing. Honestly this was the best advice EVER! It is incredible!!
So, if you want to be part of the Thermomix giveaway: Click here to enter.
To read Jo's FULL tips on the recipes to try and watch the interview click this post:
http://www.mealplanningyourway.com/2013/09/11/recipes-to-try-in-your-new-thermomix/
To visit Jo's blog Quirky Cooking:  
http://www.quirkycooking.blogspot.com.au/ 
If you're the lucky winner, you'll be all organised for it by Christmas!  You're welcome

here's the link again:   http://bit.ly/12ZlPiP