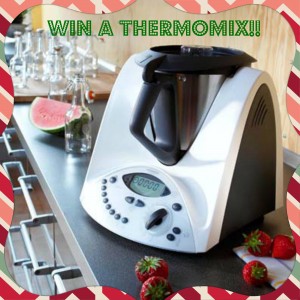 If you've been thinking about getting a Thermomix or you're participating in the Thermomix giveaway I'm part of (CLICK HERE to enter), you need to know the pitfalls to avoid!
So for all things Thermomix I turned to the lovely Jo Whitton – the Queensland based food blogger behind Quirky Cooking (http://www.quirkycooking.blogspot.com.au/).  I interviewed Jo a few months ago to find out the tips and tricks that new owners would need to know.  I bought my Thermomix a few weeks after interviewing Jo and her advice has been invaluable!!!!
Even though I work in the meal planning, food additive, allergy and food intolerance space I have only just gotten one.  Strange I know but I've had a food processor for the last 10 years and it was great.  I still love it, but I was ready to upgrade.  I had seen the Thermomix in action many times and it was on my savings plan.  Clearly an awesome machine but a BIG investment, so I was really worried – would I use it and could I justify the cost?
I have to say since interviewing Jo it really helped me to have confidence that YES – I'd use it and even though it does represent a new way of cooking, (everything is centred around time, temperature and speed), it wouldn't be hard – just different!!!  I would need to make a commitment to be persistent, keep using it and to not get intimidated!!
So, if you're the lucky winner or thinking about a Thermomix, I've linked to the original articles below, PLUS I've noted HOW Jo's tips helped get me more organised and comfortable!!
Jo's tips have helped me A LOT, in particular:
Learning how to use the Varoma at the delivery briefing.  
Learning how to use the Varoma under adult supervision = BEST ADVICE EVER!  Thank you Jo!!
I put my request in early with my lovely consultant.  I am not even sure what she had in mind to run through because even before she said, I explained:
1) Quirky Cooking's Jo told me I need to learn how to use the VAROMA and
2) I want to learn how to cook perfect rice/ quinoa!  Yes even though I am a home economist my rice always turns out dreadful.  How sad, but true!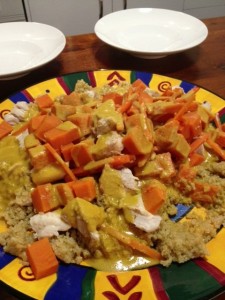 So the recipe we did was this one from Jo's Quirky Cooking blog – we replaced salmon with chicken:  http://quirkycooking.blogspot.com.au/2012/02/sesame-salmon-vegetables-with-creamy.html
My consultant brought the tikka paste – LOVE her!  OMG, IT WAS SO AMAZING!  You can see from my picture!
In my opinion the Varoma is what revolutionises the way you cook, how quickly and the amount of food is unreal.  Using the Varoma allows you to get the FULL value out of your Thermomix.  If you're unsure about getting a Thermomix – book a demo where they show you how the Varoma is used.  Hubby and I were super impressed.
Take the Training Wheels off ASAP
Jo's advice was excellent.  Hubby and I cooked some basics.  I still have the L plates on and know I have a way to go before I become a confident cook.  I certainly know that it is an appliance that as I use it more, the more confident I become.  Each time I make something new I am pretty excited!
Pick a lower speed and be careful not to overmix!
I've followed the recipes mostly so it has only been occasionally that I've gone 'free range' chopping some garlic and herbs!  I followed Jo's advice to just start on Speed 4, so you can take the cap off and watch to see when it's ready.  Having a few more seconds is so helpful because that is one fast machine!
So, all in all I'm happy with the decision I made to get it.  That said, no matter WHAT appliance you use to cook – just make sure you USE IT and have systems to help you meal plan YOUR way, because otherwise it is a very expensive dust collector!
To be part of a Thermomix giveaway: Click here to enter.
To read Jo's FULL tips on and watch the interview click this post:  http://www.mealplanningyourway.com/2013/09/09/got-the-thermomix-l-plates-on-tips-for-young-players/
To visit Jo's blog:  http://www.quirkycooking.blogspot.com.au/ 
It is no mistake that Jo's been named in the Top 25 Food and Wellbeing Bloggers by Kidspot and is soon to be a published author of her own cook book! (To find out more about Jo and her background and how the blog came to be click here).  I can't WAIT to get my hands on that cook book!
If you're the lucky winner, you'll be all organised for it by Christmas!  Don't forget click to enter:  http://bit.ly/12ZlPiP