Are you always battling against the clock when it comes to meal time?  The only time I approve of multi-tasking is when you're cooking!  This is because research shows multi-tasking isn't actually effective – it wastes even more time!
Cooking is a different story!
Get the dinner to multi-task – not you!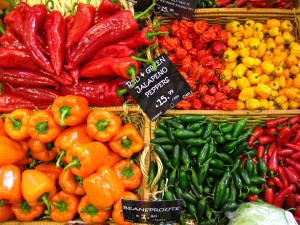 When you can get your dinner multi-tasking, you have a better chance of saving time.  The trick is – get thinking about what can you do TODAY while making your dinner to make your life easier for TOMORROW?
My theory is if you are making something in the oven,  it can be a great opportunity to roast some vegetables, or make a frittata.
I love roasting sweet potato and / or capsicum while the oven is on.  Sweet potato is one of those fantastic vegetables that is full of good stuff and so versatile.
As you know I talk alot about Revamps – converting your leftovers from a boring rerun into an exciting sequel.  So I thought I'd share how I use left over roast sweet potato as the basis of a lot of dishes for the next night – many of which give me a 15 minute meal the next night:
SALAD – A roasted sweet potato, capsicum, baby spinach, red onion and chickpea salad with panfried haloumi (or cooked fish).
PASTA – A roasted sweet potato, capsicum, baby spinach, red onion pasta (e.g. try an interesting gluten free pasta like mung bean pasta for added yummy-ness) or risoni
PIZZA  – A roasted sweet potato, feta and baby spinach pizza
CURRY – I cook up this super cool Spiced Sweet Potato Dhal recipe from the fantastic Tania Hubbard of Gluten Free Grain Free Company.  I just roast the sweet potato using the same flavours in the curry, so on the night I make the curry all I have to do is cook the spices, add red lentils (cooks in under 20 minutes on high) and then toss in sweet potato to heat through – easy peasy!!!  By the way if the link doesn't work copy and paste it into your browser  http://www.glutenfreegrainfree.com.au/gluten-free-food-online-spiced-sweet-potato-dhal/
PASTA SAUCE  – I mix sweet potato with Cooked Red Lentils and grated beetroot to make a meat free spaghetti sauce (fail safe – moderate!!!). Click here to check it out.
Who would have thought all these Revamps could come from the humble sweet potato!
I'd love to hear your tips on what you do to get a head in the kitchen by multi-tasking your meals or some of your ideas for Revamps!