I'm so thrilled to introduce you to a lovely kindred spirit and fellow food lover! I've known Claire Harrison for well over 12 years and I'm tickled pink that Claire has agreed to share her wonderful musings and observations on food – how we use it, abuse it and love it as she embarks on an exciting new adventure!
Introducing: The "Fat" Dietitian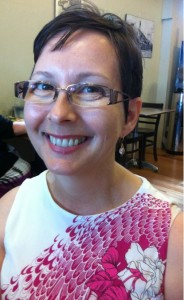 Well hello there! Let me introduce myself. I'm Claire – and Yes I am a Dietitian.   But – No I am not fat.
On our first Valentines day together (many years ago), my now husband sent me a card addressed to the "fat dietitian" – a declaration of his warped sense of humour!   Funnily enough the name stuck – and so has the husband!
So I started life as a dietitian – not because I wanted to prevent the world from eating, but because I love food and wanted to see the world eating more of the good stuff. So, like many of my ilk, I began work in a hospital but soon found that my heart lay in public health, and I gradually moved over to community nutrition.
The major difference between hospital dietetics and community nutrition, is the focus of our attention.  For the hospital dietitian it's all about micronutrients and disease, for the community nutritionist, it's all about whole foods and health – well for me at least! I like whole foods. I love whole foods. We eat whole foods. And I like health. It has a more positive ring to it.
So for 20 plus years I have been espousing the virtues of a healthy diet, full of fruit, vegies, grains and protein. Until recently.
Recently, I found myself retrenched.  So I decided to do something different – something that made my heart sing. I decided to Cook.  Some may say I have moved to the dark side. But it's all a matter of perspective.
And what will I make? Chocolate. Yep, I plan to make chocolate.  The sixth food group.
It's not that I am abandoning my principles. I am simply using them to different effect. To cook and write and eat – to share with you my musings – I promise a very broad and interesting look at food – not just the nutrients, but the whole kit and caboodle.
I'm looking forward to sharing this journey with you. Stay tuned for my next guest article where I am going to talk about sugar. Yep. That sweet, sticky, melt in your mouth granule we so often crave. It has been, lauded, traded, maligned and vilified. In earliest times, it was our Venus, now it is our Jezebel. But still we crave it. And now because I make chocolate,  it occupies a lot of my thoughts!
Until then
Claire