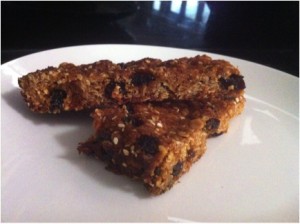 I met Aamena Nathie at an Additive Alert talk and could have talked with her for hours!  I asked Aamena to share her children's favourite snack recipe.  These muesli bars are a winner with her kids and packed full of yummy stuff!
Muesli Bars 
Best part about this recipe is if you don't like any of the ingredients in your pantry then just substitute and be creative by adding your own flavours.
Ingredients
120g organic butter
1/4 cup golden syrup or honey depending on preference
1/2 cup of organic rolled oats
1/2 cup organic self raising flour
1/2 cup organic raw compact sugar
1/4 cup craisins (organic, preservative free)
1/4 cup raisins (organic, preservative free)
1/4 cup organic desiccated coconut
2 tablespoons sesame seeds
Method
Melt butter and golden syrup on a low to medium heat
Mix all dry ingredients and then add melted mixture
Transfer to baking tray and bake for +-20 min @ 180 degrees or until golden
Allow to cool, cut into muesli bar sized bars or any size that takes your fancy!
Enjoy!

Aamena Nathie is a mum to four fabulous kids and works full time as a Bookkeeper. When she's not balancing the books, she is balancing her life between hubby, kids and making healthy choices and cooking.