This week I had the privilege of being interviewed by the lovely ABC Sunshine Coast Radio's Mary-Lou Stephens.  We chatted about all things Meal Planning, cooking and the upcoming Real Food Festival.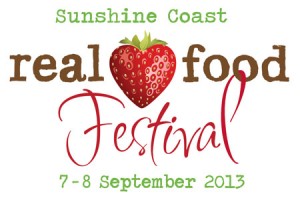 We spoke about the Meal Planning Personality Profiles and how we THINK about meal planning – in non-traditional methods.  Listen to the interview by clicking here.
It was a joy to be chatting with Mary-Lou and as we talked it was funny how often the real benefits of going to the Real Food Festival came up – to taste, talk and learn!!
Now in its third year the Festival held at Maleny on the Sunshine Coast (7-8 September) is a FANTASTIC weekend spent learning, eating and talking to local producers and awesome manufacturers!
There are over 120 stalls alone and a stack of cooking demonstrations, discussions and hands-on activities.  When you go to the event it really does help you see we have a vibrant and active regional food culture right on our door step!  How lucky are we!!!
I am lucky enough to be included in the program sharing Meal planning: tips and tricks on Saturday at 12:30pm on the Jeffers Market Nourishing Ideas – See on schedule
I find that whether you're uber-organized or organizationally challenged, there are strategies that can make your life easier when you cook from scratch. I'm excited about this session because it is all about sharing strategies to solve the what's for dinner challenge and I'll be chatting about the meal planning personality profiles to so you can meal plan YOUR WAY!
Check out the full program here:  on the website it is incredible!  There is everything from Gluten Free cooking ideas with our lovely friends Tania Hubbard from Gluten Free Grain Free Company,  Monica Topliss from Kunara Organic Market Place Cafe, all about Food Intolerance with The Allergy Menu Girls – Pauline and Michelle, and how to make a perfect cup of coffee with Tim Adams and how to make a great cup of Tea with May King Tsang!  HEAVEN!!
Plus the incredibly knowledgable Fran Murrell from MADGE will be talking about GM (Genetically Modified) Food.  If you missed our August What's the GO with GMO session do what you can to get along to this one – you'll at least get a bit of a snippet of the issues and chat to Fran after.  We love Fran and it is so good to see she is coming again sharing her wisdom of 17 years of research – talking to BOTH sides of the fence!
Of course a big feature of the program is how to GROW FOOD.  If you want to learn more – you will love the program.  The hardest part is working out what sessions to go to.  Of course I want you to come to mine on Saturday at 12:30!!!!
I look forward to sharing a great weekend with like minded people – all on the journey looking at what's in our food and how to eat better!