I'm so excited to share this one with you because it shows clearly when you are too busy – you can still eat well!  Try making something as simple as this CABBAGE SALAD – it is so versatile – you can eat it hot or cold!
This CABBAGE SALAD is even quicker if you make it with a food processor!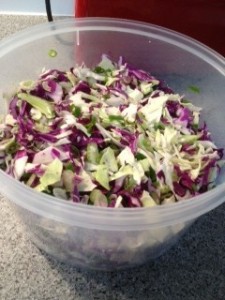 Ingredients:
1/2 small red cabbage
1/2 large white cabbage
3-4 stalks celery
2 shallots
Method:
Chop ingredients and keep in the fridge.
5 WAYS +
The beauty of this salad is that you can use it for a lot of dishes:
1. SAN CHOW BAU (cook onion, garlic, add mince and brown well.  Add soy sauce and chilli.  Add cabbage salad and serve in lettuce cups)
2. MINCE CHOP SUEY/ CHOW MEIN (i.e. as above – just not in lettuce cups!)
3. CHOW MEIN (cook mince as above or cook sliced meat, add sauces, add cabbage salad, and whatever noodles/ pasta is ok)
4. STIRFRY (cook meat and toss in your cabbage salad)
5. SIDE SALAD with chops, or with Baked Potatoes! etc .
6. SPRING ROLLS (just defrost the wrappers, and put in rice noodles and the cabbage salad, brush with oil and cook in the oven – so delish for lunches. Serve with dipping sauce)
7. LUNCHTIME SALAD (add chopped capsicum, boiled egg and tuna in oil and drizzle with apple cider vinegar).
This cabbage salad makes cooking sooo much QUICKER and EASIER!!!!