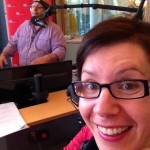 Yesterday I had the privilege of being interviewed in the studio by Tim Cox on 612 ABC Brisbane – following the Australian Medical Association (AMA) president Steve Hambleton saying that busy lifestyles and living arrangements are leading many people to eat too much fast food, which is having a BIG impact on our health – chronic disease and weight gain!
The AMA says about 60 per cent of Australian adults are overweight or obese, and we have huge chronic disease issues.  They haven't even touched on the issues of what's IN the takeaway food and the impact of that on the health and behaviour of kids!  Certain additives in takeaway food may be causing chaos in homes throughout Australia – just in time for bedtime!!
So just as I did yesterday with the listeners, it's time to share some quick and easy strategies that will get you cooking in no time:
Learn the Art of the Revamp
As many of you know I LOVE leftovers – of course I call them REVAMPS because it is all about Revamping leftovers from a boring rerun into an EXCITING SEQUEL!!
Check this article here for the how to:  The Art of the Revamp
Make Ahead Meals
One of the listeners who called in on ABC 612 on Tuesday spoke about how they love making up a good old Bolognese Sauce!  I couldn't agree more – it is TOTALLY my all time favourite I make two variations – one with mince and tomato, or a FAILSAFE version with Red lentils and grated beetroot!  They can be frozen and used for pasta, in tacos, for lasagne, or on a pizza!  The list goes on!
1 Dish 5 Ways – At least!
I am camping at the moment in Western Queensland and I still made this AWESOME salad to take with me! Totally on high rotation in my house and I just want to show you when you are too busy to eat well try making something as simple as this CABBAGE SALAD – so so versatile!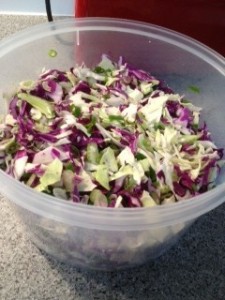 I make up a big batch of this CABBAGE SALAD using a food processor (1/2 small red cabbage, 1/2 large white cabbage – or more, 3-4 stalks celery, 2 shallots). I keep it in the fridge and use it for a lot of dishes as a base:
1. SAN CHOW BAU (cook mince, garlic and add cabbage salad and serve in lettuce cups)
2. MINCE CHOP SUEY/ CHOW MEIN (cook mince, add cabbage salad – i.e. as above – just not in lettuce cups!)
3. CHOW MEIN (cook meat slices, add cabbage salad, and whatever noodles/ pasta is ok)
4. STIRFRY (cook meat and toss in your cabbage salad) 
5. SIDE SALAD with chops, or with Baked Potatoes! etc 
6. SPRING ROLLS (just defrost the wrappers, and put in rice noodles and the cabbage salad, brush with oil and cook in the oven – so delish for lunches. Serve with dipping sauce)
This cabbage salad makes cooking sooo much QUICKER and EASIER!!!!
I hope these tips help to show that even when you are too busy – you can eat well !