Have you downloaded the Additive Alert App?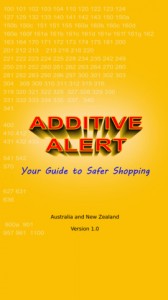 This simple mobile app is so easy to use. It allows you to search for Australian and New Zealand food additives – by number AND name!
The additive data has been compiled from Additive Alert: Your Guide to Safer Shopping written by Julie Eady. The app was developed by Patrick Allwood. Patrick initially developed the Android version of the app to run only on his phone and his wife's phone and had no intention for it to be used by anyone else – however he received so much interest from family and friends, that he approached Julie for permission to use her data and brand name and release the app to the public. Julie agreed on the condition that the app be free of charge.
Patrick was more than happy to agree as Julie's book helped him to shake the worst of his fibromyalgia symptoms that he had been living with for the past fifteen years!
Thanks Patrick for your work on this App! It is such a great resource to compliment to the book! Patrick will be making a few changes – including my request of including the Wallet Card Numbers so that you can prioritise which additives you want to avoid first.
Would love to hear your feedback!!

DOWNLOAD
To download the Android Version Click here
To download the iPhone Version Click here
Here are some screen shots too!