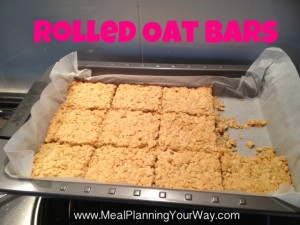 This is a super quick recipe that you can make while you eat your breakfast – I'm not joking it is seriously that quick.
It is very much like ANZAC biscuits… hmmm need to make another batch!
Lunchbox Rolled Oat Bars
Prep time:
Cook time:
Total time:
These are so yummy! The recipe is a rolled oat bar (from Failsafe diet). It is so quick and easy everyone can make it!
Ingredients
1 cup wholemeal self raising flour
2 cups rolled oats
½ cup sugar
150 g pure butter
1 tbsp golden syrup
Instructions
Turn oven on to 160 degrees.
Line slice tray with baking paper.
Combine flour, oats and sugar in a bowl.
Melt butter, add golden syrup and mix into dry ingredients.
Press into slice tray and bake for 15-20 minutes until brown.
Cut into bars while still hot, leave to cool before removing from tray.