Do you struggle to keep school lunches cold?
As you know at Meal Planning Your Way we're obsessed with helping you work out what to put in those lunch boxes!  On our facebook page we surveyed our mums and found out how you keep those lunch boxes cold.  We were lucky enough to have one mum introduce us to Fridge To Go ® and I just had to get my hands on some to share with you!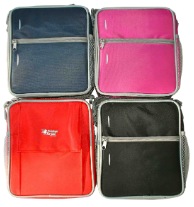 These lunch bags use 'Surround Cooling Technology' to keep food cool for up to 8 hours!?!  They are BPA-free, PVC and lead-safe too.
So, if you would like to be in a chance to win one of three Fridge To Go®  Medium Lunch Bags (retail for $34.95) and you are an Australian resident, all you have to do is answer this question in 25 words or less:
How would the Fridge To Go ® Lunch Bag make a difference to packing school lunches in your household?
How to Enter:  Put your answer as a comment on this post.  Don't forget to give us your name and email address so we can contact you if you win (because we need to send you the prize!).
The Fridge To Go® giveaway starts 10am Wednesday 1st May and closes 2pm Thursday 23rd May 2013.
Check out the Terms and Conditions for Meal Planning Your Way Giveaways(click on the link).  One of the T&C's includes LIKING the Meal Planning Your Way  Facebook page (click here to check it out!)
Can't wait to read your entries!

By the way – Fridge To Go ® provided me with these products.