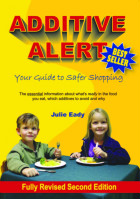 As an Additive Alert Community Talks Presenter I teach people key lessons from the Australian Best Seller Additive Alert: Your Guide to Safer Shopping (click here for details on the book).
I recently shared with the Stay at Home Mum website SOME of the worst additives that most people want to avoid as they are linked to adverse health problems.  If you have asthma or specific health concerns, or if you have young children there are other additives you might need to avoid!
Click here to check out this post on the Stay at Home Mum website for a quick list – REMEMBER there are more – but it is a good starting point!!