This Goulash Recipe is so quick and easy it is crazy!  It is super quick so you need to make sure you have everything ready – especially the potatoes (if you want to cook mashed potatoes).  See below for our REVAMP Inspiration too.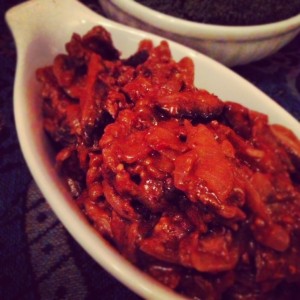 What's for Dinner: Hungarian Goulash in under 15 minutes
Author:
Louise D'Allura - www.MealPlanningYourWay.com
Prep time:
Cook time:
Total time:
Ingredients
OIL, 2 teaspoons
ONION 1, sliced
FIELD/ PORTOBELLO MUSHROOMS, 4 large, halved and cut into big chunks
GARLIC 2 cloves, chopped
RUMP/ PORTERHOUSE/ SCOTCH FILLET STEAK, 250-300g, sliced thinly - 3mm slices (as per a Thai curry).
PLAIN FLOUR, 1 heaped tablespoon
PAPRIKA, 2 heaped teaspoons
VEGETABLE COOKING WATER OR STOCK, ½ cup (up to 1 cup)
FRUIT CHUTNEY, 3 tablespoons
Serve with:
Mashed potatoes and loads of green vegies - Get the potatoes cooking first because this meal is ready in NO TIME!!!
Instructions
Heat oil in fry pan over medium-high heat, add onion and garlic, cook for a minute then add mushrooms, and cook for 2-3 minutes.
Add thinly sliced steak and stir quickly. Allow meat to cook for about 1-2 minutes, until meat is mostly brown (still with little bit of blood)
Add plain flour and paprika, stir for a minute.
Add fruit chutney, allow to heat for 1-2 minutes. Add as much stock or vegetable cooking water as you need to create a little sauciness, then serve!
Serve with mashed potatoes and green vegetables.
REVAMP Inspiration
One of my favourite Revamps for this meal is a Steak and Mushroom Pie.  Just remember to double the quantities so you have enough filling!