Salmon is full of nutrients and protein and most importantly it is a natural real food source of omega 3s the essential fatty acids  shown to help prevent heart disease, high blood pressure, rheumatoid arthritis and depression.  Our body can't produce these fatty acids so we need to be getting these through our food and salmon (as well as other oily fish such as mackerel, sardines and swordfish) are a great source!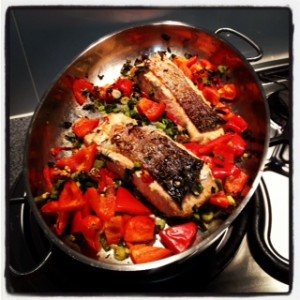 Research shows that Omega 3s are essential for brain development and function and they can assist in the management of depression in those who have already been diagnosed.  There is also some evidence coming out of Victoria that omega 3s can enhance our immune function and help slow tumour growth.
Sounds like good reasons to me to eat salmon at least once a week!
This was an amazing recipe – probably the best one I have tasted and tried – unbelievable when you consider how simple and  delicious it is!!!  It is definitely one I will be making on a regular basis using fresh Tasmanian Atlantic Salmon.
This recipe is originally from Jamie Oliver's 30 Minute Meals so of course it is REALLY easy and delicious!
Just add chopped vegetables (spring onions, chillies, capsicum) into baking dish.
Have some salt, pepper and lemon zest ready, then make a space in the baking dish, drizzle some oil in the base and put in the Tassie Atlantic Salmon fillets (skin on) and toss the salmon fillets in the oil and sprinkle with salt, pepper and lemon zest.
Make sure you have the skin side up and bake them in the oven (on the MIDDLE shelf)  under the Grill for about 14 minutes (I had it on 200 degrees Celcius).
Then take the fish out of the oven, peel the skin away and flip the fillet over, sprinkle a pinch of fennel seeds, salt and pepper, put the skin back on and bake for another 5 minutes (I increased it to 220 degrees Celcius).
The skin really crisps up and it is the easiest and most delicious way to cook fresh salmon fillets – thanks Jamie!!