This is a delicious quick and easy quiche that doesn't use any pastry so it is super healthy. You can make a vegetarian option or add sulphur free ham/ salmon for a meat option.  Serve it with a salad and you've got a fab dinner!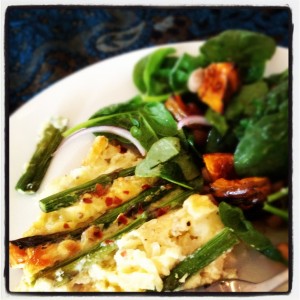 Asparagus Quiche
Author:
Louise D'Allura - www.MealPlanningYourWay.com
Prep time:
Cook time:
Total time:
Ingredients
OLIVE OIL Drizzle
Extras: just enough to scatter on base of dish: HAM (Diced Nitrate free) or SMOKED SALMON or FETA and ROAST CAPSICUM
MILK 1 ½ cups (or 1 cup milk & ½ cup extra light sour cream)
EGGS 3
GRATED CHEESE (e.g. Tasty) 1 cup
ONION 1 , chopped
FLOUR (plain or self raising) ½ cup
SALT and PEPPER to taste
ASPARAGUS 1 bunch (if large) or 2 bunches if pencil thin asparagus, trim ends
FRESH/ DRIED HERBS (to taste)
Instructions
Preheat oven 200C or 180C (Fan).
Lightly oil a pie/ quiche dish or spring form pan.
If adding in ham/ smoked salmon or vegetarian option (feta and roast capsicum) scatter over the base of dish.
In a bowl place milk, eggs, cheese, onion, flour and salt and pepper.
Mix ingredients well to combine.
Pour egg mixture into pie dish over the filling.
Arrange asparagus on top.
Bake for 25-30 mins.
Meanwhile, make a salad.
Once cooked take out of the oven and let sit for a few minutes before cutting and serving.