I don't often think about it, but I definitely live within a budget:  I have money set aside that is our "groceries money". Our groceries money is always in cash so I can't over spend.
This is really helpful because being an Intuitive (and Supermarket Strategists would understand this too), I can get distracted by Bright Shiny Objects in the supermarket.  The conversations in my head sound a little like this:
"Oh that looks like a great idea."
"Wow look at that – how cool the ingredients list looks great and I can identify all the ingredients,"
"Cool no preservatives"
"OMG that is dreadful! I can't believe they put THAT in THIS!"
Each week I'm looking at new products, putting some down and shaking my head, pulling faces, or smiling excitedly at a wonderful new discovery.  I'm sure people think I'm mad 😉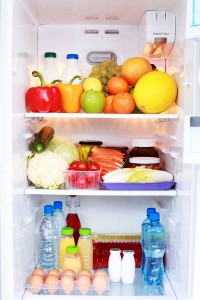 As an Intuitive, I know my best strategy to keep and stick to a budget is to buy ingredients that form the basics of my meal plan, so that when I DO plan (at 4pm each day) I have what I want when I need it.  Having this element of basics and routine ingredients helps me keep my budget in check.  I can grab extras as I need it but the basics stay the same (see the Guide).
Today I'm sharing 3 ingredients make a difference to keep my budget in check.  I don't compromise taste or flavour and you'll see that I recommend a mix of low and medium priced ingredients.  Generally speaking I find that vegetarian meals are great for stretching your food dollar, and they add much needed variety!!! Too often we get stuck in a rut eating meat, meat, meat  every night of the week.  Try a Meatless Monday with one of my favourites!
My top 3 food budget lifesavers:
Legumes
I love legumes!  Not only are they great power houses of protein, fibre and minerals, they can stretch your meat portion (so you eat less meat) or you can make them the hero of the dish!
There are some really easy ways to add legumes to stretch your meat component: Add red kidney beans to mince for chilli con carne and casseroles/ slow cooker dishes.  I add chickpeas to any lamb or beef casserole (often I only use 500-600g of meat when it calls for 1kg, and then add in a can of legumes.  Of course if you're organised and plan ahead you could cook dried legumes).
Legumes as the HERO: One of our favourite recipes is a Dahl curry.  Made with yellow split peas.  It is the simplest and tastiest one you will eat.  Another favourite is Cauliflower and Red Lentil curry.
Eggs
How great are eggs!  Fritatta's, Quiches, Pies and Slices are just wonderful ways to stretch your dollar, add food variety and still feed a tribe!  My favourites include: Cherry Tomato and Feta Fritatta, Asparagus Quiche (no pastry), Spinach and Feta Pie, Zucchini Slice.
Risotto Rice
Risottos would have to be one of the best ways to make you feel like you're NOT eating on a budget.  The good news is your risotto can be a mix of low cost and more expensive ingredients to balance it out.  For example, my all time favourite risotto is a Baby Spinach, Mushroom and Smoked Salmon Risotto.  If I have time and have them in the pantry I will put toasted pine nuts on top too.
What are you healthy 'budget' recipes?