I love my utensil draw.  One of the things that saves me a lot of time in the kitchen is knowing exactly where to find the things I need. Having a well organised utensil draw set out for how I think when I am cooking makes a massive difference.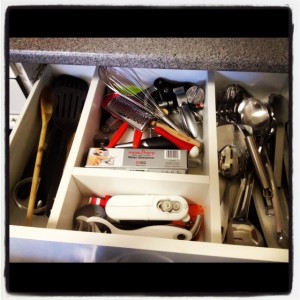 As you can see in this photo this is my main utensil draw.  It has four divisions:
Left hand side: Wood and plastic spatulas – for me I either want wood or plastic primarily.  It is the closest spot to the cook top so I like the ones I use the most here.  You'll notice the egg ring is out of place 😉  That needs to go in the top of the middle section.
Middle section (bottom) is also for the most used small appliances – vegetable peelers, can openers, chicken choppers (these were my grandmothers and are the best!).
Middle section (top) is for miscellaneous short utensils.  Everything from a knife sharpener, whisker, cheese grater through to a steak hammer and cherry pipper.
Right hand side: This side features almost all my stainless steel utensils, and some serving spoons.  I don't use these a lot compared to the wood and plastic utensils.  Extra 'serving' spoons are in the bank of 4 draws under cutlery.
What ideas do you have for making sense out of your utensil draw?  If you're not sure where to start, think about:
Which utensils do you use all the time; often use; and sometimes use
If you're lucky enough to have a draw beside your cook top, look at how you can have the utensils you use all the time in it  for easy access?
Always try to containerise your utensils so they don't get out of hand.  My draw has custom dividers but you could try utensil or cutlery trays or plastic containers in your own formation!
With the utensils you don't use often, take a good long look at them then pop them in a box and sit it on your bench top. As you need an item take it from the box, then you can return it to the draw.  After a month look to see what is left in the box of items you haven't used.  As you look at each, decide if it is worth keeping or sending it on its way.
If your whole kitchen is crazy and chaotic, start small and in a strategic location!  The utensil draw is one I find people leave to last, but it often makes the biggest difference to making cooking easier and less stressful!