I love cooking stir frys.  They are super quick and easy to cook, and you can make life easier by choosing ingredients where some of the preparation has been done for you (e.g. sliced meat/ chicken).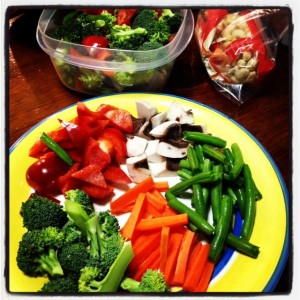 What I don't like about stir frys is if I plan to eat it the next day; the vegetables are LIMP!   It's not a problem if you plan to Revamp it into an Impossible Quiche but if  you just want to eat a yummy fresh stir fry again with crunchy vegetables,  you really have to try something different!
The secret to crunchy stir fry vegetables is to cook all the meat you'll eat for both nights, and chop all the vegetables you'd eat for both nights, but the trick is only put into the stir fry in the volume of vegetables you plan to eat that night.
As you'll see in my picture I've got the vegetables that I was using for dinner on the plate and the vegetables for tomorrow are in the container ready to go!
When you're serving your stir fry, grab all the vegetables out first (using tongs works best), then add the meat.
What's even better? Tomorrow night's dinner is ready in under 5 minutes with CRUNCHY vegetables!!  Yummo!
This works well even if you plan to eat stir fry for lunch the next day (and use the microwave to reheat it).  Just put your raw vegetables into the container with the meat, toss and by the time it has reheated for a couple of minutes your vegetables will be delicious!