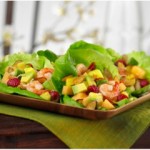 There are a few easy strategies you can implement so that a hectic life doesn't mean that dinner time has to be fast food or takeaways on the run!
If you spend a little time thinking ahead by working out what your favourite takeaways are, you'll be able to save yourself money and improve your health!  Many of our favourites actually originate as fast street food in their country of origin.  They've gained popularity because they are so easy to cook and can be made almost anywhere!  Many recipes can be made in under 30 minutes (most less than this) and can sometimes have only 5 ingredients.
Research from The Nielsen Company ShopperTrends Report has shown our favourite takeaway cuisines are:
Thai
Italian
Chinese
Japanese
The great thing is that there are many easy, fast, and healthy versions of our favourites that you can make at home (e.g. pad thai, laksa, pizza, tacos, fried rice) AND you have the advantage of making your version with all natural ingredients!
Pick one of your favourite takeaways and try and master it at home.  Find the healthiest, quickest and easiest version you can that tastes great.  The best way to make sure your recipe is healthier is to look at ways you can incorporate lots more vegetables, grains and legumes; include only moderate amounts of meat/ fish/ poultry/ vego alternatives; and small amounts of fat (avoid too much saturated fat), salt and sugar.
Once you find a "hit" with the family, store the recipe in a book, on your computer, and in your phone!