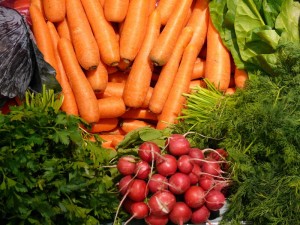 I was looking at an old copy of VEGINSIGHTS a quarterly report produced by the Australian vegetable industry (AUSVEG).
It revealed some interesting data on consumers favourite fresh vegetables!
The top vegies, purchased twice as much as any other vegetable, include carrots, lettuce, potato and tomato!
The data is based on purchasing patterns from the October-December 2009 period and revealed that 58 per cent of households purchased carrots and potatoes in the December quarter, meaning they were in the top four vegetables purchased, with onions following closely behind at 54 per cent.
While lettuce was also purchased by 58 per cent of households, double the amount of females to males purchased lettuce in the December quarter!  I am wondering how they know it was female purchasers…. anyhow I can't wait to get my copy of the report from AUSVEG!
Capsicum, mushroom, broccoli, pumpkin and zucchini also made the top 10, however, all were purchased by less than 40 per cent of the households surveyed.
How does this compare to your household?  I'd love to hear what you're whipping up in your kitchen with these vegetables?